Description
&Now Festival of Innovative Writing: Points of Convergence

---

Schedule:
Thursday, September 19: 7:00 pm -11:00 pm
Friday, September 20: 9:00 am - 6:30 pm
Saturday, September 21: 9:00 am - 11:00 pm
Sunday, September 22: 9:00 am - 12:00 pm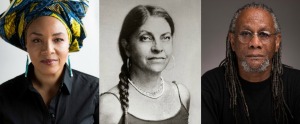 Keynotes: LaTasha N. Nevada Diggs, Barbara Browning, Nathaniel Mackey
The literary world is both a microcosm and litmus for issues that have rocked the nation and the world. &NOW 2019: Points of Convergence will provide a space for conversations, performances and readings that seek to articulate, bridge, or resolve these conflicts. A point is a location and also a salient detail. No effort is too big or too small to create a crack in the edifice that locks us in.
Registration for &Now 2019: Points of Convergence is now open.
&Now is a biennial literary festival known for presenting innovative writing, thinking about writing, and interdisciplinary explorations such as new poetics, performances, narrative, critical, electronic, and multimedia projects.  In addition to presenting new work, its book fair, panels and readings foster conversation about past, present, and future literary concerns and movements.