Description
The Department of Near Eastern Languages and Civilization is excited to host a lecture and demonstration by Rahim AlHaj, virtuoso oud musician and composer.  Mr. AlHaj, who was a featured composer at the recent Seattle Symphony concert "Music Beyond Borders: Voices From the Seven," will discuss his upcoming Smithsonian Folkways release Letters from Iraq and play themes from the album.  
From the liner notes of Letters from Iraq: "Letters from Iraq expresses the love and pain of lives lived by the people of war-torn Iraq. Actual mailed letters and their stories are transposed into eight gripping programmatic compositions by Iraqi-American composer and oud player, Rahim AlHaj with string quintet (2 violins, viola, cello, contrabass) and percussion. He says, "Music can make us laugh, make us cry, make us march into war. I want to make music to make us realize peace." These recordings are of deep emotion and great beauty, melding mastery of Iraqi and Western classical genres alike to form something entirely new."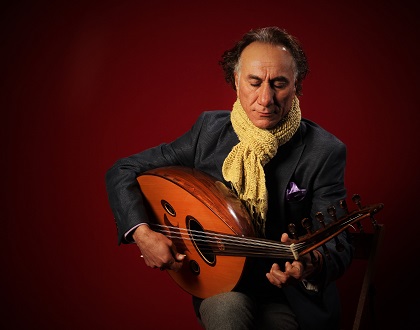 Rahim AlHaj was born in Baghdad, Iraq and began playing the oud (the grandfather of all stringed instruments) at age nine. Early on, it was evident that he had a remarkable talent for playing the oud. Mr. Alhaj studied under the renowned Munir Bashir, considered by many to be the greatest oud player ever, and Salim Abdul Kareem, at the Institute of Music in Baghdad, Iraq. Mr. AlHaj won various awards at the Conservatory and graduated in 1990 with a diploma in composition. He holds a degree in Arabic Literature from Mustunsariya University in Baghdad. In 1991, after the first Gulf War, Mr. AlHaj was forced to leave Iraq due to his activism against the Saddam Hussein regime and began his life in Jordan and Syria. He moved to the US in 2000 as a political refugee and has resided in Albuquerque, NM ever since. In 2015 Rahim was awarded the National Endowment for the Arts National Heritage Fellowship, the highest honor for traditional arts in the USA.
This lecture is free and open to the public.