Description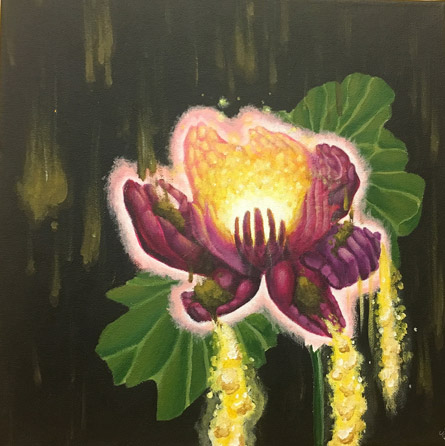 Heaven Shrinks in Her Hands by Leah Ward

Reception: Friday, February 2nd, 6-8 pm
---
For more information: James Miles | (206) 722-5440| james.miles@artscorps.org

SEATTLE, WA — The LEADERSHIP AND LIBERATION EXHIBITION is open to the public

January 18 – March 9, 2018, in the University of Washington School of Social Work Gallery (1st floor) at 4101 15th Ave. NE (M-F, 8 AM – 6 PM). A reception, also open to the public, is scheduled for
Friday, February 2, 6-8 PM.

The Arts Liberation and Leadership Institute (ALLI) is a one-week intensive summer program where youth are trained in artistry, social justice, and organizing. Youth leaders develop as cultural workers in three arts pathways: spoken word poetry, music, and visual art. This cohort of youth hones their arts and organizing skills, while deepening their understandings of race and social justice issues. They collaborate, build community and create art that challenges oppression and envisions a more just world. 

The pieces in this exhibit were created by the five students in the visual art pathway. They spent the week investigating the intersection of visual art and social change. They explored themes including identity, intersectionality, culture, hope, home and resistance to police, prisons, borders, homophobia and assimilation.

About Art Corps

Arts Corps is a nationally recognized youth arts education organization that works to address the race and income-based opportunity gap in access to arts education. Through participation in our arts integration, out-of-school arts and teen leadership programs, youth experience the transformative power of creativity and gain a deepened belief in their own capacity to learn, take risks, persist, and achieve. Art can be a personal act of liberation and when done collectively can transform schools, neighborhoods, and beyond.
Arts Corps programs are proven to foster creative and critical thinking skills as well as sense of belonging, connection, and a mindset for learning. Evaluation also suggests that Arts Corps students are more engaged in school and test better in reading and math, an important contribution to closing the achievement gap.
---

To request disability accommodation, contact the Disability Services Office at: 206.543.6450 (voice), 206.543.6452 (TTY), 206.685.7264 (fax), or email at dso@u.washington.edu. The University of Washington makes every effort to honor disability accommodation requests. Requests can be responded to most effectively if received as far in advance of the event as possible, preferably at least 10 days