Description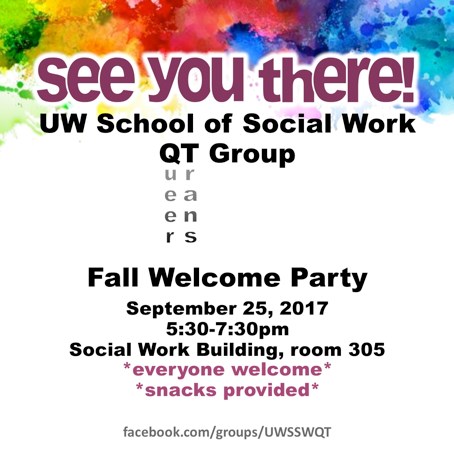 We hope you have all had a wonderful summer! Please join the UW School of Social Work QT Group for a fall welcome event. The QT Group serves as a place for queer, trans, and allied students, faculty and staff to build community, share resources, organize events, and more.
At the fall welcome event, we will be hanging out with new and old friends, and asking what YOU would like to see the QT Group be and do during the upcoming academic year. We'll even provide some snacks (GF and vegan options!), but feel free to bring something to share if you like! Everyone is welcome to join -- new students, returning students, faculty, staff, family, significant others...everyone!
Can't make it? You can email Karen Fredriksen-Goldsen (fredrikk@uw.edu) with your suggestions for the upcoming year.
Details:
September 25th, 5:30-7:30pm, Social Work Building room 305
FB event: www.facebook.com/events/143418612926884/
FB group: www.facebook.com/groups/UWSSWQT/