Description
Diane Wiener, Ph.D., L.M.S.W., Director, Syracuse University Disability Cultural Center
In this faculty professional development session, Diane Wiener will engage faculty to sharpen their disability analysis by utilizing an intersectional social justice framework with a specific focus on applications to social work pedagogy. This session will explore the reciprocal relationship between advocacy and social work research, policy, theory, and practice, centering principles of Universal Design and disability justice.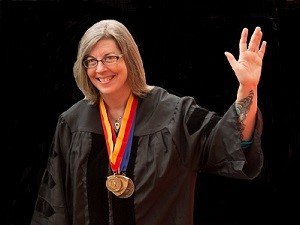 Diane R. Wiener, Ph.D., L.M.S.W., joined the Syracuse University Division of Student Affairs (now Enrollment and the Student Experience) as the Director of the Disability Cultural Center in the fall of 2011, after serving as Assistant Professor of Social Work at Binghamton University (2005 to 2011), and having worked in the social services, education, and mental health activist fields on the east coast and in the southwest since the late 1980s.  She self-identifies as an educator, administrator, social worker, advocate, and artist, among other roles. Between 2012 and 2015, Diane was appointed as a Research Associate Professor (Cultural Foundations of Education, S.U.).  She currently teaches part-time for the Renée Crown University Honors Program at S.U.  Diane has published widely in a variety of subjects related to diversity, social justice, inclusion, and empowerment.
Access Info 
The School of Social Work and 305 are mobility aid accessible.
While we cannot guarantee a scent-free space, we ask that attendees arrive fragrance-free.
CART captioning has been requested. To request disability accommodations, contact the Disability Services Office at 206-543-6450 (voice), 206-543-6452 (TTY), 206-685-7264 (fax), or dso@uw.edu.
Questions about accessibility or the event? Contact Emiko Tajima etajima@uw.edu